Summary
Book your tickets here for 2024
Book your tickets here for the 2024 West Tech Assemblage. This half-day conference will build on the work we have done over the last 9 years. The Assemblage keeps going from strength to strength and 2024 will be a landmark year for building accessibility in tech for all West Australians.
Drones – Principles to Flight – An Accessible Training Program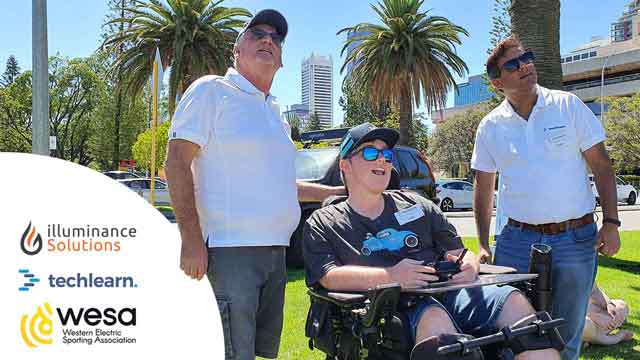 The Drones – Principles to Flight – An Accessible Training Program have been specifically designed as a practical training course for people with mobility or dexterity impairment. To secure achievement of the goal with the new training program, illuminance collaborated with Techlearn and Western Electric Sporting Association (WESA). The fully accessible training program was a result of West Tech Assemblage 2020, which focused on access and inclusion, whether that be digital, physical or workforce. For the first time in the history of the event, attendees heard from five individuals with disability, who shared their insight and experiences in a moderated panel conversation, and it was when some of the amazing panel members got introduced to some of the WTA sponsors the foundation for the training program was created.
The aim of the course is to train attendees with the latest theoretical and practical aspects of drone piloting, upskilling them for employment opportunities.
With a world becoming more digital and automated, there is a growing need to embrace and train in new technologies. Drone-piloting opens new doors to everyone with applications in the workplace, at home or for recreation purposes. For people with disability, it has the additional benefit to assist with overcoming some obstacles that hinder their everyday lives.
Drones used to be a concept of the future, but today with the advent of microelectronics and advanced sensor technologies, they are available for anybody to enjoy either recreationally or, with the appropriate certification, commercially and professionally as well.
This introductory course will put the trainee in the driver's seat – or should we say the Pilot's seat, allowing them to understand the essential principles of drones, appreciate the many uses of drone technology and get the opportunity of legally and safely operating them.
The training was held on 21st February 2021 in Langley Park with support from the City of Perth.